Below you will find answers to commonly asked questions and concerns regarding our IV therapy. We're here for you and want to provide you with as much information as possible. This page will periodically be updated.
If you do not see an answer to your question please contact us at Fluid IV Lounge.
How long does it take?
From the time you walk in to the time you leave, the entire IV therapy process will take less than an hour. We can often get you treated in 30 to 45 minutes.
How often should I get a treatment?
Our treatment schedules are customized to the individual and their specific needs and goals. For the most basic health and wellness benefits, we recommend one to two treatments per month.
In addition to basic hydration, we are working to balance any nutritional deficiencies you might have. Some people may find that they will need fewer IV infusions as their levels become more optimal while others will need more regular care. This depends on the individual and we would be happy to offer you blood testing services to determine your starting point and track your progress along the way.
Can I purchase a membership to receive discounts on multiple treatments?
Yes! We would be happy to offer you a Fluid IV Lounge membership. We offer six and 12 month packages that will save you up to 15 percent per treatment. Please email us at info@fluidivlounge.com or ask one of our staff members for more info.

How long do the effects last?
Depending on your specific nutrient levels when you first walk in, the effects of the treatments generally last from two to three weeks.
What are the advantages of IV therapy?
As we age, our body's ability to absorb nutrients through the stomach and intestines naturally diminishes. And if you happen to be taking an proton pump inhibitor or other acid-reducing drug, you will have an even harder time absorbing essential vitamins and minerals. With IV therapy, you will benefit from 100 percent absorption, as this technique bypasses the digestive tract, placing nutrients directly into your bloodstream.
Who administers the IV?
We have a team of registered nurses with backgrounds in hospital, emergency room and other IV clinic settings. Your IV will be administered by a seasoned professional with years of experience.
How do I choose an IV treatment?
Everyone has different goals and our team of experts would be happy to discuss the options to help select the treatment that is right for you!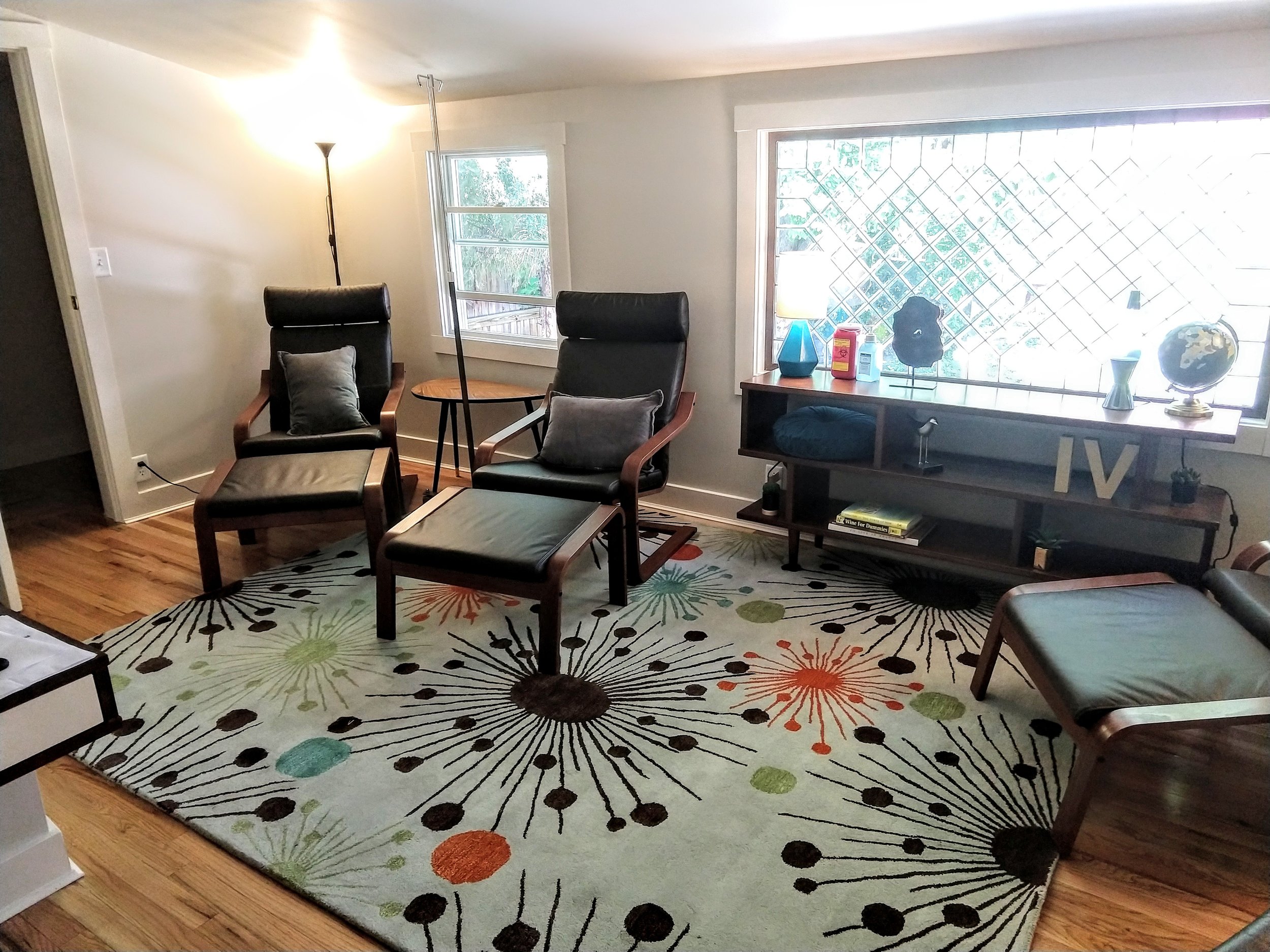 Your space to relax and rejuvenate.